Life Support Search and Rescue Updates
Tuesday, December 20, 2022
22 December 2022
Life Support arrived in the port of Livorno

This morning, Life Support arrived in the port of Livorno with 142 people who were rescued from two different vessels in the Central Mediterranean.
The survivors come from Bangladesh, Burkina Faso, Cameroon, Ivory Coast, Egypt, Eritrea, Guinea, Mali, Pakistan and Somalia. They have gruelling experiences of migration behind them, many have told us that they were arbitrarily detained in Libya where they suffered violence of various kinds.
They went to sea in crammed wooden boats, packed together and crushed for many hours, before being rescued by EMERGENCY's team, who provided assistance and care.
We left on 13 December from Genoa with a single goal: to save lives on the most dangerous migration route on the planet. Thanks to those who have worked so hard to make this first mission a reality, from the team onboard to the everyone who worked to get Life Support ready over the past months.
To the men, women and children we met on this ship, we wish them good luck and a future filled with the dignity and human rights they are entitled to.
20 December 2022
"I want to live my life finally"
On Life Support, there is a group of Somali boys. They are skinny and exhausted.
They were rescued on Saturday 17 December from a wooden boat that left from the coast of Libya.
They sleep a lot, exchange a few words and smiles when awake, you can tell they are relieved.

"
This is the first time I've slept in two years.
I was in Libya, working as a builder so I could stay in the country and hoped to cross the sea. I always slept with one eye open at night because they would come and beat me when they felt like it. Sometimes maybe because I was doing something wrong without realising it, sometimes for no reason.
I would like to go to Frankfurt because I have relatives there. I want to live my life finally."
19 December 2022
Second Sea Rescue by Life Support
Life Support is on its way to Livorno – the Place of Safety assigned by the Italian MRCC. 142 rescued people are on board, following two separate night rescues, conducted 24 hours apart.
Due to the darkness and waves, the rescues were challenging for the EMERGENCY rescue team and the staff on board, Carlo (Project Coordinator for Life Support) tells us.
The 'distressed' boats we approached were wooden and overcrowded, with people stowed away in the hold. There was a risk of sudden capsizing due to the imbalance caused by the number and location of people on board.
Life Support set sail on 13 December from Genoa for its first mission at sea: all of the effort, commitment, and days without sleep are repaid by the looks on the faces of those who were rescued from such a precarious situation.
19 December 2022
Second Sea Rescue by Life Support
At approximately 4:30am, EMERGENCY's Life Support vessel completed the rescue of 72 people who were in international waters, in the Maltese SAR zone, on a boat reported by Alarm Phone.
According to the survivors, the wooden boat, approximately 7 metres long, had left the Libyan coast on the evening of 17 December and had been in the water for more than 24 hours heading towards Lampedusa.
After spotting the boat at risk of capsizing, shortly after 1am, EMERGENCY's Life Support informed all authorities and immediately activated the rescue team.
"Tonight's rescue was complicated by sea conditions, which had worsened compared to the last few days, and due to the fact that people were situated on two levels inside the boat," said Carlo Maisano, coordinator of EMERGENCY's SAR Programme. "However, the rescue took place without any particular problems."
Among the 72 survivors are 2 unaccompanied minors from Guinea, 2 Egyptians and 2 Eritreans. All the others are of Pakistani nationality.
"They are mostly dehydrated, due to the duration and conditions of the journey they have made. Our medical team is monitoring the rescued people," reports Paola Tagliabue, Medical Officer on board Life Support.
The Life Support ship, which left the port of Genoa on 13 December for its first search and rescue mission in the Central Mediterranean, was on its way to Livorno, the Place of Safety assigned by the Italian National Maritime Rescue Coordination Centre, when it received the report of the boat in distress.
After this rescue, there are a total of 142 survivors on board Life Support, which has already sent the request for confirmation of the Place of Safety where they are to be disembarked as required by international regulations.
18 December 2022
EMERGENCY's Life Support Vessel Has Completed Its First Sea Rescue In The Central Mediterranean
We are onboard Life Support now with 70 people. The rescue operation was done lastnight. At around 5am, we finished the recovery. Now, our medical staff is taking care of them. Everything is under control. The rescue operation was not easy because of the lack of light due to night, and conditions that were not stable because of the structure wooden boat, but everything went well because we had a professional team onboard, both in terms of the medical part and rescue. They ready to go on with this kind of operation.

Carlo Maisano, Project Coordinator Life Support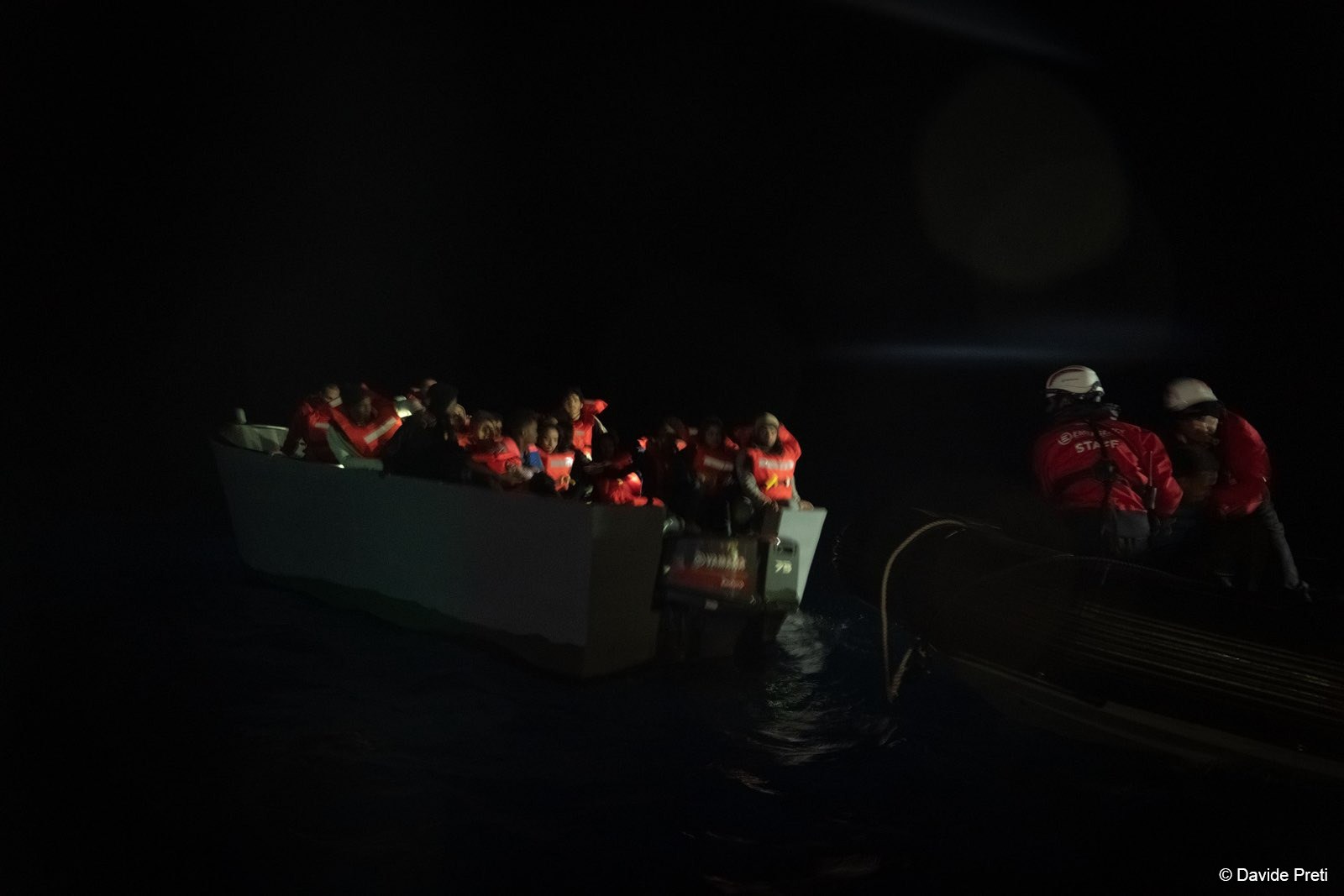 Among the 70 people are 5 women, one of whom is 7 months pregnant, 2 children under the age of 2, and 24 unaccompanied minors aged 13 and over. They come from Somalia, Egypt, Ivory Coast, Cameroon, Burkina Faso and Mali. They are mostly dehydrated, there are a few cases of scabies, and one person is experiencing convulsions.
Life Support received a report from Alarm Phone of a boat in difficulty in the Libyan SAR area. After locating the boat, Life Support informed all authorities and immediately activated the rescue team.
It was a complex rescue, our team tell us, which ended at approximately 5am this morning.
A Libyan Coast Guard unit was present during the rescue operation and later recovered and destroyed the empty boat.
We asked for a port of safety where we could disembark the survivors. The port of Livorno was assigned to us by the Italian Maritime Rescue Coordination Centre at 10.59am.
14 December 2022
Life Support, EMERGENCY's search and rescue ship,
 has launched its 
first mission
 into the 
Central Mediterranean Sea,
 one of the world's most dangerous migration routes.
Over recent months, we have been working hard to prepare.
An EMERGENCY team is onboard, including a doctor, two nurses, two rescuers and two cultural mediators. Life Support has set sail to save lives. We are proud to join the civil fleet and defend human rights.