Earthquake in Iraq: EMERGENCY's view
Yesterday at 9:30pm, a magnitude 7.2 earthquake hit the eastern area of Iraq, on the border with Iran, causing hundreds of deaths and thousands of injuries.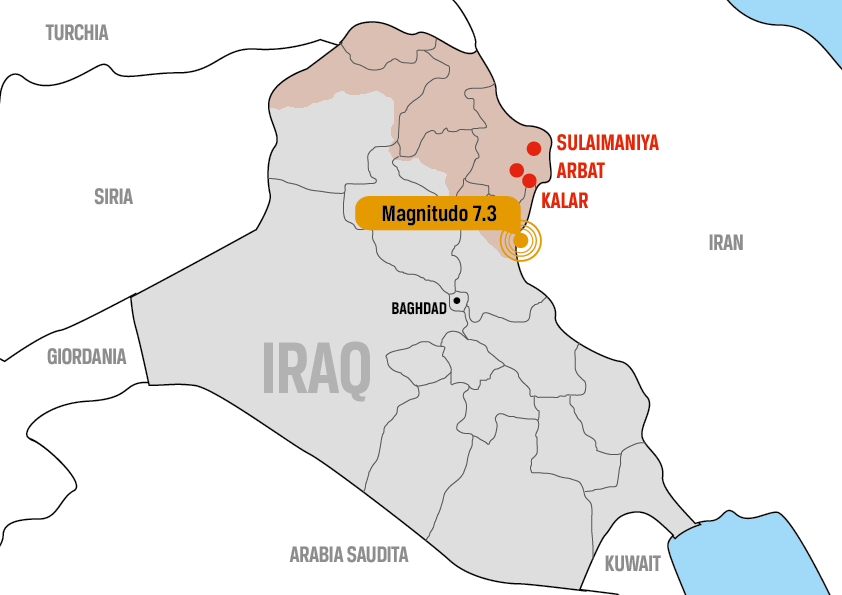 "People poured into the streets in terror. The earthquake, the epicentre of which was located about 30 kilometers from the city of Halabja, was also felt in the areas of Sulaymaniyah and Kalar, where EMERGENCY works", says Pietro Calogero, EMERGENCY logistician. "Our guesthouses have reported minor damage as well as the camps where EMERGENCY operates. As the population primarily lives in makeshift structures (mostly tents), there have been no significant collapses to cause injuries. Throughout the night, we received many patients in a state of panic. We are currently working on an assessment of hospitals in the area so that we can take action if necessary. It will be a long day."
EMERGENCY projects in Iraq include the Social Rehabilitation and Reintegration Centre in Sulaymaniyah, and five health centres offering free care to the residents of IDP and refugee camps in the areas of Arbat and Kalar.
"Luckily, the situation seems to be under control and the government is managing. At the A&E in Sulaymaniyah, for example, 83 patients arrived this morning, mostly with minor trauma or in a state of panic. The most critical area seems to be Darbdikhan, halfway between Kalar and Sulaymaniyah, where the public hospital has been heavily damaged by the earthquake. Our team will continue to monitor the situation, and we will be at the disposal of the authorities should they need support, "added Emanuele Nannini, Vice-Coordinator of the Humanitarian Office.
EMERGENCY has been present in Iraq since 1995. Today, we manage the the Rehabilitation and Social Reintegration Centre in Sulaymaniyah, where we have treated over 9,000 people and built thousands of prostheses, offering patients the opportunity to reintegrate into their communities through vocational training courses and by helping them open small business cooperatives. Additionally, EMERGENCY has opened 4 Clinics in the Arbat area camps and a clinic in the Tazade camp in the Kalar area where it provides assistance to millions of Syrian refugees and displaced Iraqis who sought refuge in Iraqi Kurdistan from the conflicts that have ravaged the region.
(November 14th 2017)