Children's Surgical Hospital in Entebbe
Uganda - Entebbe
319
Surgical Interventions
Millions of children die every year simply because they have no access to health care. Lack of resources? Lack of interest for the sufferings of many? Lack of social responsibility from the governments? Or all of the above? Whatever the reason, the question remains: shall we continue to tolerate this scandal, or shall we make every effort to save or improve the life of millions of fellow human beings?

Gino Strada
This new hospital will be a model of medical excellence, environmental sustainability, energetic independence, and harmonious space distribution. We want to utilize the resources of the earth, water, and sun, the best achievements of modernity, the real ones.

- Renzo Piano, at the laying of the first stone on 17 February 2017
April 2021: an update from Entebbe
WE ARE OPEN IN UGANDA: The new Children's Surgical Hospital in Entebbe has begun clinical activities! Our first patients are Ramadhan, Topista, Justine, Katongole, Matovu and Jordan, all of whom are between 3 and 11 years old.
EMERGENCY's approach to healthcare
EMERGENCY offers free, high-quality healthcare to those who need it, because we believe that medical treatment is a fundamental human right.
As well as responding to the immediate needs of the population, EMERGENCY commits to training local staff, to allow them to eventually become autonomous.
Free medical treatment, excellence of care, and training of local staff are the founding principles of EMERGENCY's work.
What is ANME?
In 2007, we took part in a highly innovative cooperative healthcare project. Its aim was to bring excellent healthcare to Africa, and to affirm through action the right of every human being to free, high-quality medical treatment. The Salam Centre for Cardiac Surgery in Khartoum, Sudan was the first totally free cardiac surgery centre in Africa, providing medical and surgical assistance of a high standard to children and adults with congenital and acquired heart conditions.
Following the launch of this project, EMERGENCY brought together health ministers from nine African countries in 2008 to discuss how to guarantee their citizens the right to free, high-quality healthcare. The conclusions made at the conference were published in the "Manifesto for a Human Rights Based Medicine", which states the need for healthcare systems founded on Equality, Quality of treatment and Social Responsibility. It was on the basis of these principles that the African Network of Medical Excellence (ANME) was founded in 2010. The network's goal is to create a network of Centres of Excellence that will strengthen the continent's healthcare systems and provide a united response to the region's health problems.
In 2017, construction work began for the network's second centre: the Children's Surgical Hospital in Entebbe, Uganda.
The Project
The designs for the Centre in Entebbe were made by Renzo Piano and the Studio RPBW workshop, with TAMassociati and EMERGENCY's technical department.
Like the Salam Centre in Sudan, the hospital in Uganda puts EMERGENCY's sustainability model into practice, which is based on the principles of Equality, Quality and Social Responsibility (EQS).
Why Uganda?
The Ugandan government, a member of the ANME network since its inception, provided the land on which the hospital will be built, as well as agreeing to cover 20% of the construction costs.
The needs
World Health Organisation data shows that Uganda is still very far from reaching the Millennium Goals for reducing infant mortality.
Fifty per cent of people in Uganda are under 15 years old, but the country has 4 paediatric surgeons for a population of almost 45 million people. Infant mortality for children under five is 49 for every 1,000 live births; 30% of deaths over the age of 5 can be attributed to a lack of surgical treatment.
One in three Ugandans lives on less than 2 dollars per day.
Recognition of our work
Dr Tedros Adhanom Ghebreyesus, Director-General of the World Health Organisation, visited the Salam Centre in October 2018 in recognition of the importance of the hospital and the programme of excellence in healthcare, based on the EQS principles, as a model for the whole region. He shared our determination to bring free, high-quality healthcare to Africa.
Promoting sustainability in healthcare in developing countries means working with local communities every day to improve technical skills and ability. It also means involving local authorities right from the first phases of projects, getting them to provide human and, where possible, economic resources in order to guarantee free, high-quality treatment and facilitate their eventual takeover of the facilities.
The facility

The new Children's Surgical Hospital was built in Entebbe, on the banks of Lake Victoria, over a 120,000 m2 area provided by the Ugandan government.
The hospital has 72 ward beds, 3 operating theatres and all the diagnostic and ancillary services needed to run it, such as a laboratory, blood bank, pharmacy, canteen, and laundry.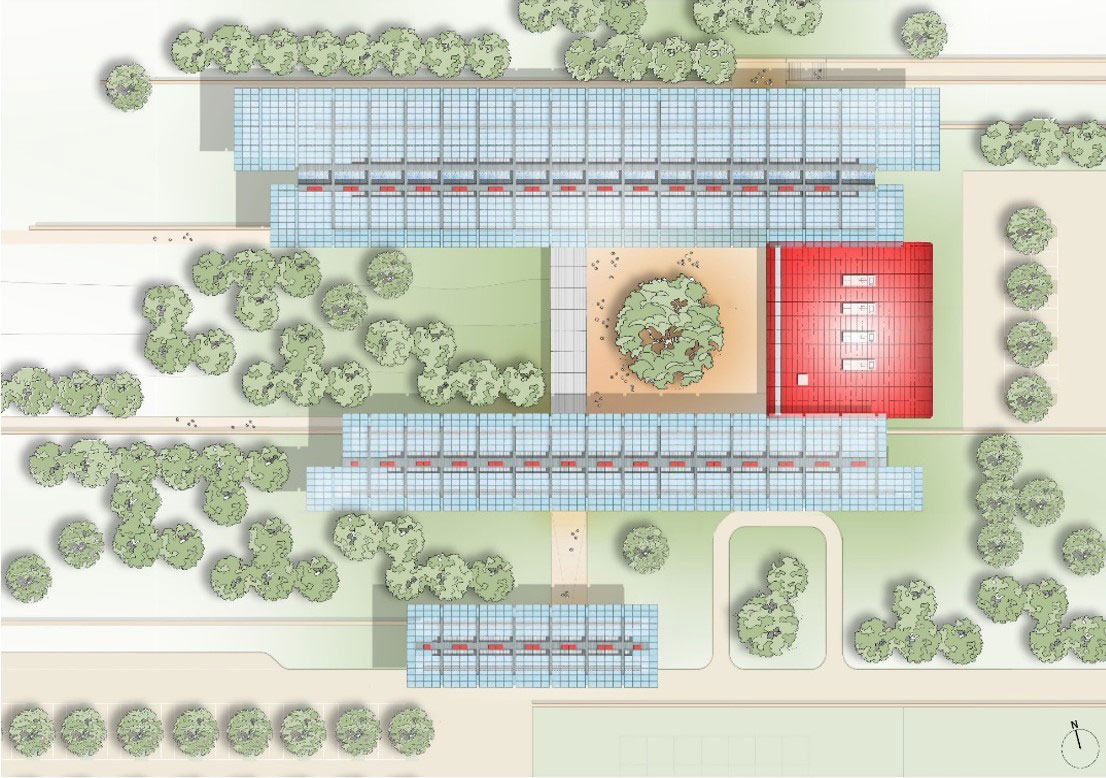 It also has areas for training local staff, both medical and administrative.
For patients and relatives visiting from a range of distant countries, there is a guest house with 36 beds.
We took a sustainable approach in design choices, using the same architectural principles as traditional houses, but in an innovative way. The facility was built with excavated earth. Load-bearing walls were made of raw earth using the traditional rammed earth method. Rammed earth is the most common construction material in the houses of the poorest people across almost the entire globe. It is a simple and cheap construction method. We plan to maximise its ingenuity by using the same architectural principles used for traditional houses in an innovative way.
The hospital is equipped with 2,500 solar panels, which will provide a portion of the electricity needed by the building, in order to reduce energy usage.
As in other EMERGENCY hospitals, there will also be a garden, with 350 trees. Green areas are an important part of patient recovery and healing, as recent international medical studies have shown.
Support our idea of healthcare: free, high-quality, universal
By supporting the new Centre, companies can take part in a crucial project – not only from a humanitarian point of view, but a unique challenge both culturally and in terms of its sustainable approach to healthcare.