Healthcare of Excellence in Africa
The African Network of Medical Excellence aims to create medical Centres of Excellence that are capable of responding to health needs on a regional level.
What is ANME?
The African Network of Medical Excellence (ANME) is an initiative comprising of EMERGENCY together with more than a dozen African health authorities to develop an integrated network of Medical Centres   of Excellence across the continent, affirming the right of every human being to access free, high-quality medical care. 
In a region marked by decades of conflict and underfunded health infrastructure, ANME fosters stronger relationships between the countries involved through reciprocal healthcare collaboration that addresses regional needs. Two tracks—the direct expansion of the network's facilities, in tandem with EMERGENCY-hosted conferences and workshops between African health ministries—ensure the ongoing development of ANME as a replicable and sustainable project for improving the continent's health systems.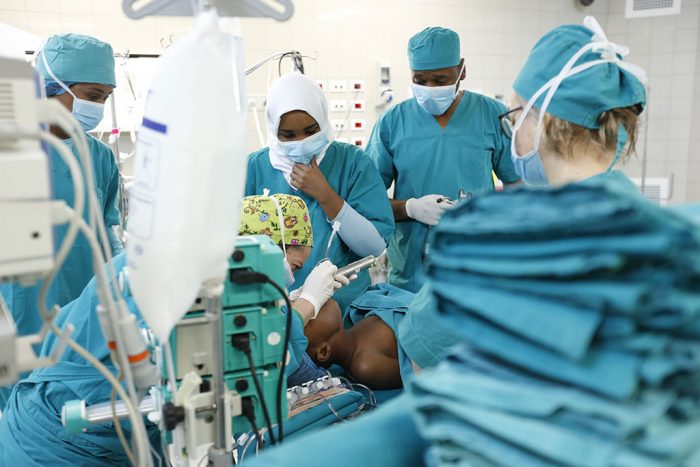 Model/Principles

 
Emerging from our Manifesto for a Human Rights-Based Medicine (2008), ANME promotes the beliefs that every human being has a right to be treated without discrimination, and that governments consider the health and wellbeing of their citizens a priority. 
The ANME healthcare model has two guiding principles: 
Free healthcare

is the essential prerequisite for providing prompt treatment to anyone in need.

Medical excellence

guarantees high clinical standards and promotes the training of qualified healthcare professionals, research development and local healthcare systems.

 
From this foundation, a network of two Centres of Excellence and an accompanying Regional Programme has developed, providing high-quality medical care to patients from 33 different countries: Afghanistan, Bangladesh, Burkina Faso, Burundi, Cameroon, the Central African Republic, Chad, the Democratic Republic of Congo, Djibouti, Eritrea, Ethiopia, Gambia, Guinea, Iraq, Jordan, Kenya, Liberia, Libya, Nigeria, the Philippines, Rwanda, Senegal, Sierra Leone, Somalia, South Sudan, Sudan, Tanzania, Togo, Uganda, Yemen, Zambia, and Zimbabwe. Italian citizens temporarily residing in Sudan have also undergone treatment at the centre. 
To truly achieve this, the humanitarian and development efforts directed to healthcare cannot be almost entirely focused on primary healthcare. If the universal right to quality medical assistance is to be fulfilled, it is essential to pursue an approach that aims to create a many-layered healthcare system in an inclusive way. EMERGENCY is convinced that the right to treatment is a fundamental human right and believes that medical services must be free, based on people's needs and up to date with the latest medical and scientific discoveries. A truly integrated, many-layered healthcare service, with secondary - and tertiary - level facilities open to all, not only provides good treatment to those who need it, but it also offers specialist training to locals working in the health sector. Improving the skills of local staff is a spark for developing the local healthcare systems, providing tools and skills to handle more complicated medical challenges. Creating Centres of Excellence is a concrete method to support local communities and will also contribute to reduce the risk of brain drain by inverting the tendency and moving towards a brain gain process.
ANME Facilities
The first Centre of Excellence established as part of the continent-wide network was our Salam Centre for Cardiac Surgery in Khartoum. In 2021, ANME officially expanded to its second Centre of Excellence with our Children's Surgical Hospital in Entebbe. Investing in a network of excellence goes beyond the facilities' walls: each centre has a corresponding Regional Programme, which helps to identify, refer and support people in need of specialist care to reach the hospital, and to coordinate collaborations between training institutions. Through prioritising the training of local colleagues, ANME aims to increase the strength and long-term sustainability of local and regional health systems. 
Visit the project pages below to learn more about each facility
The Salam Centre for Cardiac Surgery
The fulcrum of the EMERGENCY cardiac surgery Regional Programme, the Salam Centre is the only free hospital specialising in cardiac surgery in an area home to over 300 million people.
The Children's Surgical Hospital
The hospital is a point of reference in Uganda for elective paediatric surgery, with operations planned in advance and organised through waiting lists in order to systematically tackle deep-set problems in Uganda and nearby countries.
Research and Academic Papers
ANME RESOURCES
On 13 May 2022, one year after the Children's Surgical Hospital in Entebbe, Uganda, began activities, EMERGENCY hosted representatives from 12 African Health Authorities to outline the achievements of the African Network of Medical Excellence (ANME), and shape its future path.
The Regional Programme of Cardiac Surgery
The Salam Centre is connected to a network of facilities across Africa and beyond where our international cardiologists perform screening and follow-up checks for patients who need surgery.
You can help bring healthcare to those in need
By donating to EMERGENCY, you can help provide high-quality, free healthcare to those in need.